TANK
PROTECTION SHIELD®
TAKING DEVELOPMENT TO THE NEXT LEVEL
Welcome to TANK PROTECTION SHIELD-Service GmbH, your specialist partner for tank and dome shaft renovation
TANK PROTECTION SHIELD-Service GmbH belongs to the Heine Group. We assist our customers, who are located throughout Germany and neighbouring European countries, with all matters related to corrosion protection on dome shafts, silos and tanks for all types of storage, filling and handling facilities from our headquarters in one of the most important centres of the German chemical industry, Leverkusen, and from our branch in Dortmund.
Our patented Tank Protection Shield®, TPS for short, makes leaks a thing of the past. TPS durably protects your facilities against corrosion!
However, TPS is more than just a modern, reliable sealing material for protecting tanks and silos. Tank Protection Shield relies on our comprehensive range of work required to get your facilities back in proper working order as quickly and cost effectively as possible. All during ongoing operations! Similar to how a turtle shell can partially heal when injured, we help you repair your facilities without any business interruptions. Inspired by industry trends, we partnered up with M2 Entwicklungs-, Produktions- & Vertriebs GmbH, part of the Heinze Group, to develop the material required to achieve this. Depending on the severity of the damage, we offer an innovative hybrid solution to protect your facilities against corrosion. It involves the use of a newly developed metal substitute paste, which can be applied cold to rigidly and permanently seal leaks. After the subsequent TPS seal, rust doesn't stand a chance!
HSSE CERTIFIED
We adhere to the strictest standards in terms of occupational safety, environmental protection and customer satisfaction.
Our processes and work procedures have been extensively evaluated and successfully certified according to HSSE standards.
We also train our employees on an ongoing basis to ensure they are at the forefront of the latest technical and legal developments.
Learn more on our website!
About us. About our products. Our services. And the advantages we offer! Or become an exclusive licence holder for one of our patented tank protection shields and pass on all the great benefits we offer to your customers!
TANK PROTECTION SHIELD-Service GmbH – your expert partners for protecting your facilities against corrosion!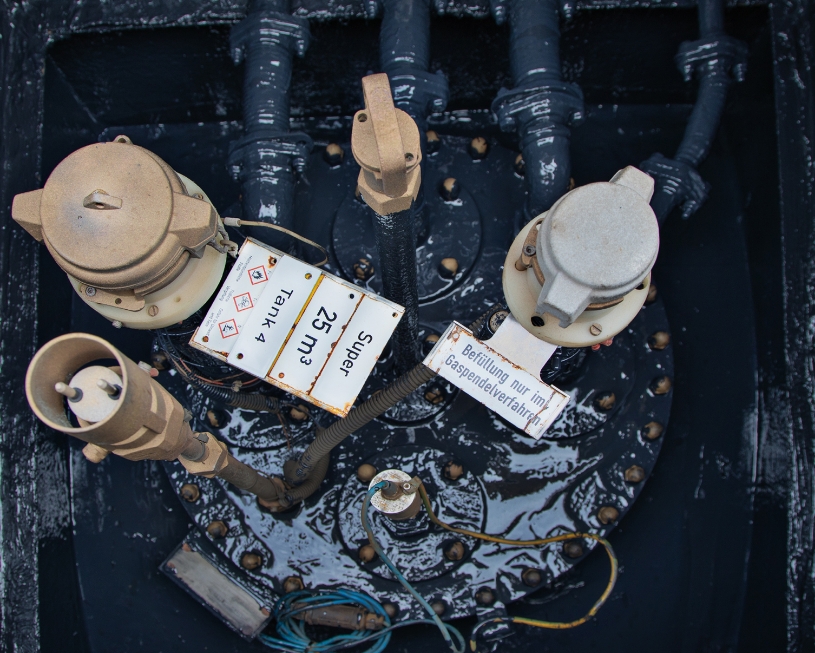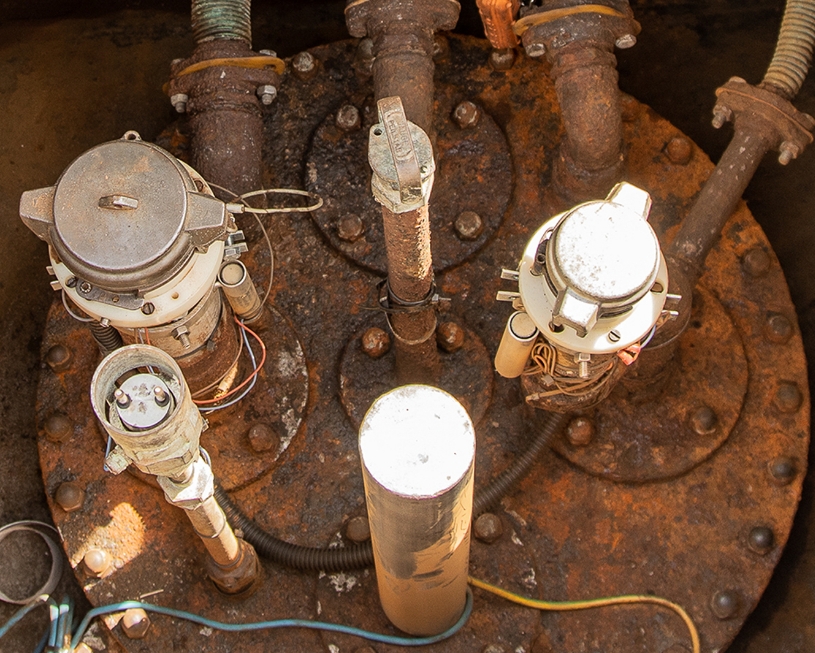 100% durable
carbon protection

Year
warranty*
Implemented during
ongoing operations
Up to 90%
cost savings

* With the conclusion of a maintenance agreement.
The safe seven
THE SAFE TPS
PROCESSen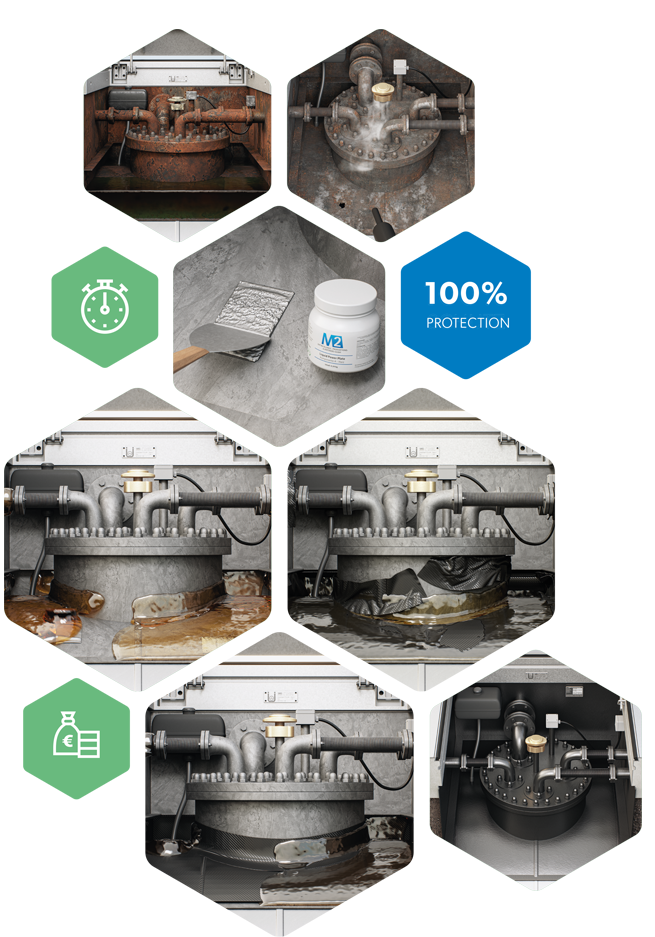 Revolutionary tank sealing:
Liquid Power Plate (LPP) – the solution for water-polluting substances! No more welding = no more risk! LPP, the 100% metal substitute with strong adhesive properties, directly joins to the tank. Leaks are force-sealed with LPP.
As the final touch, the TPS system offers complete protection. LPP hardens quickly, producing a pressure-tight surface. There's no need to wait around for the final pressure test. LPP and TPS – the future of tank sealing!
Seven steps to safety:
Durable protection for dome shafts.
1. CLEANING
of the dome shaft and removal of water or Antifrogen; blasting the surface with dry ice after pre-treatment with an abrasive medium to remove any existing corrosion products from the metal surface
2. LEAK DETECTION
Uncovering damaged areas and preparing the tank walls for further treatment
3. LIQUID POWER PLATE
Force-locking in the cold process; the dome cover is force-sealed with a pressure-tight metal polymer to correct metal scarring due to corrosion or crack bridging in the metal
4. SEALING RESIN
Vinyl-ester sealing resin is applied to the prepared dome cover
5. CARBON FIBRE-MESH
The carbon fibre-mesh is inserted and reinforcing material is soaked to produce a homogeneous connection to the substrate, the laminate is vented
6. SEALING RESIN
The second layer of vinyl-ester sealing resin is applied to the pre-treated surface
7. COATING
Once the laminate has dried, the entire dome shaft is coated with a DIBt approved, liquid-tight, chemical-resistant, flexible coating from our partner Wolftank Deutschland: EPOFLEX DOMR DIBT approval, AbZ-59.41-354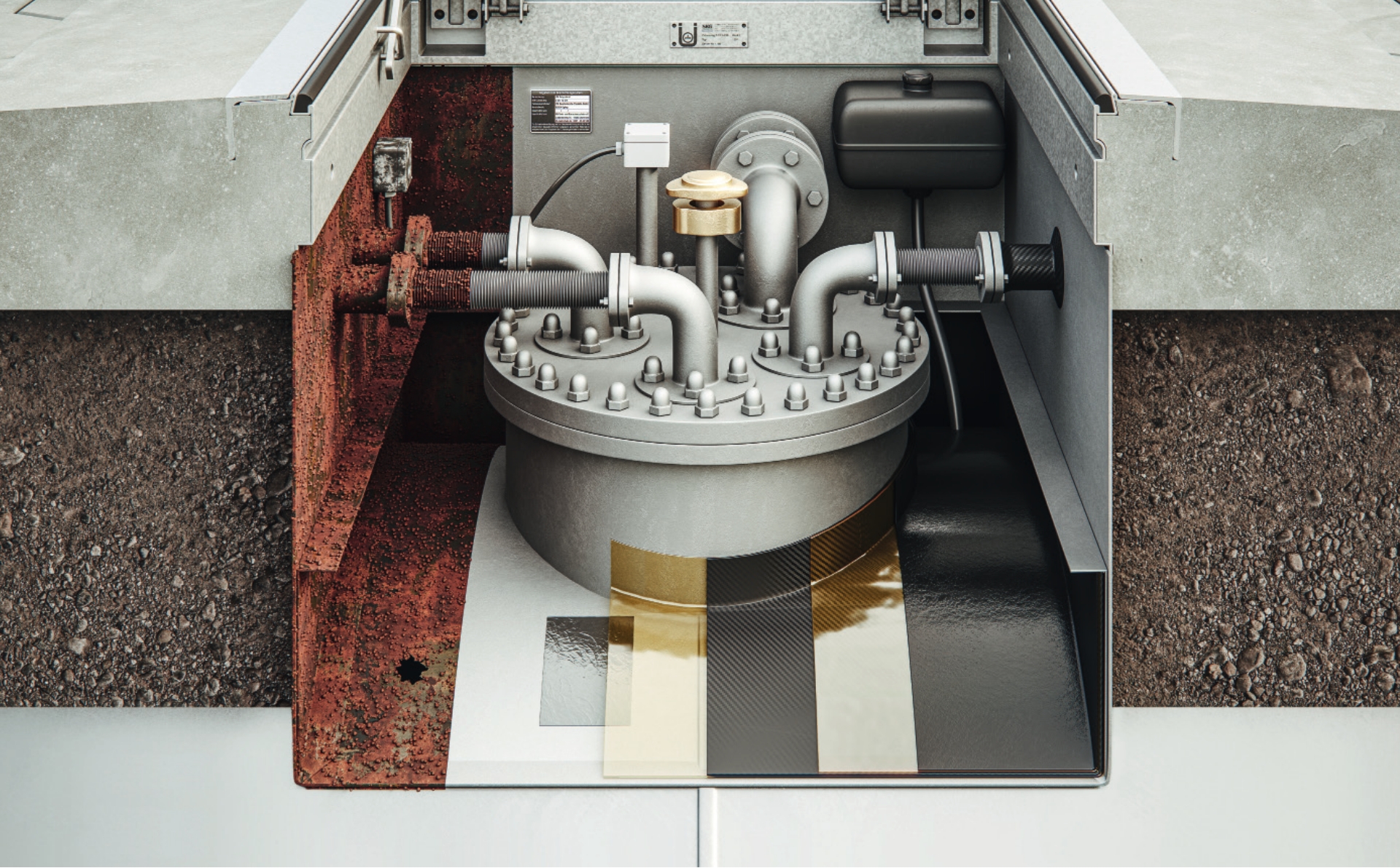 Compliant with authorities and directives

46

8

Corroded dome shaft cover with pitting

26

75

Surface blasted with dry ice

33

75

Pitting closure with Liquid Power Plate

39

75

Epoxy vinyl ester-based sealing resin for long-lasting results

45

75

Carbon fibre-mesh

52

75

Epoxy vinyl ester-based sealing resin for long-lasting results

59

75

Liquid-tight coating, DIBt approved, 2,000 μm

66

75

Circumferential 10 cm upstand

73

75
REACHING PERFECTION STEP BY STEP:
RENOVATION IN SEVERAL STEPS

safety first –
SAFETY IS OUR
TOP PRIORITY
IMPRESSIVELY RELIABLE
TAKING RESPONSIBILITY
FOR PEOPLE AND THE ENVIRONMENT
Working on tank facilities, silos and in confined spaces requires a high level of safety. We prioritise not only the safety of our customers, but also the safety of our employees. Our team receives extensive training and ongoing learning in line with the strict requirements of German Social Accident Insurance (DGUV).
Training and passing the exam 'expert for the clearance measurement of vessels and confined spaces' in accordance with DGUV rule 113-004 is mandatory for all employees.
We conduct regular training at our premises. During their sessions, employees learn how to safely work with the latest measuring devices to minimise the risk involved in working on dome shafts or silos. This helps avoid potentially dangerous situations.
The sessions also cover key rescue methods to rescue injured or unconscious people from confined spaces.
PRECISE PLANNING,
SEAMLESS COORDINATION
Detailed discussion of the construction project with experts – we explain all details and contingencies to make sure our customers can follow every step of our work with full transparency.
HSSE-oriented planning for comprehensive safety: Before work starts, we coordinate all measures to ensure health, occupational safety, safety and environmental protection with the petrol station operator in line with the pertinent regulations. Our aim is to create a safe work environment and proactively combat potential risks.
Alignment and coordination with external companies and subcontractors: In order to ensure a seamless work process, scheduling and collaborations for the individual work are carefully planned and coordinated to avoid delays.
Extensive documentation and complete approvals – the customer receives all documents and photographic records.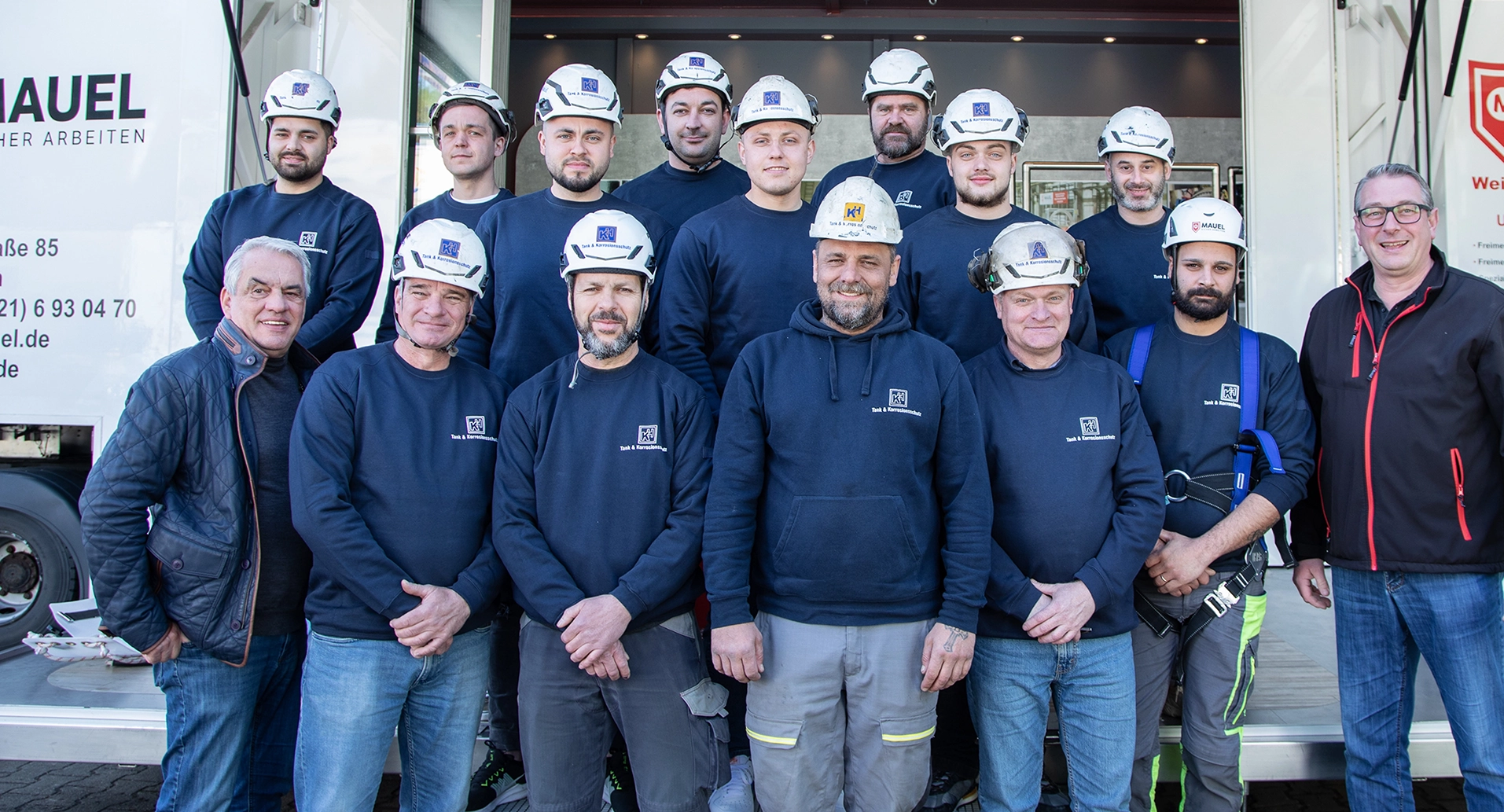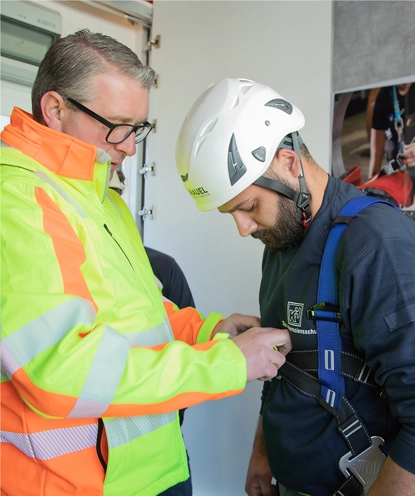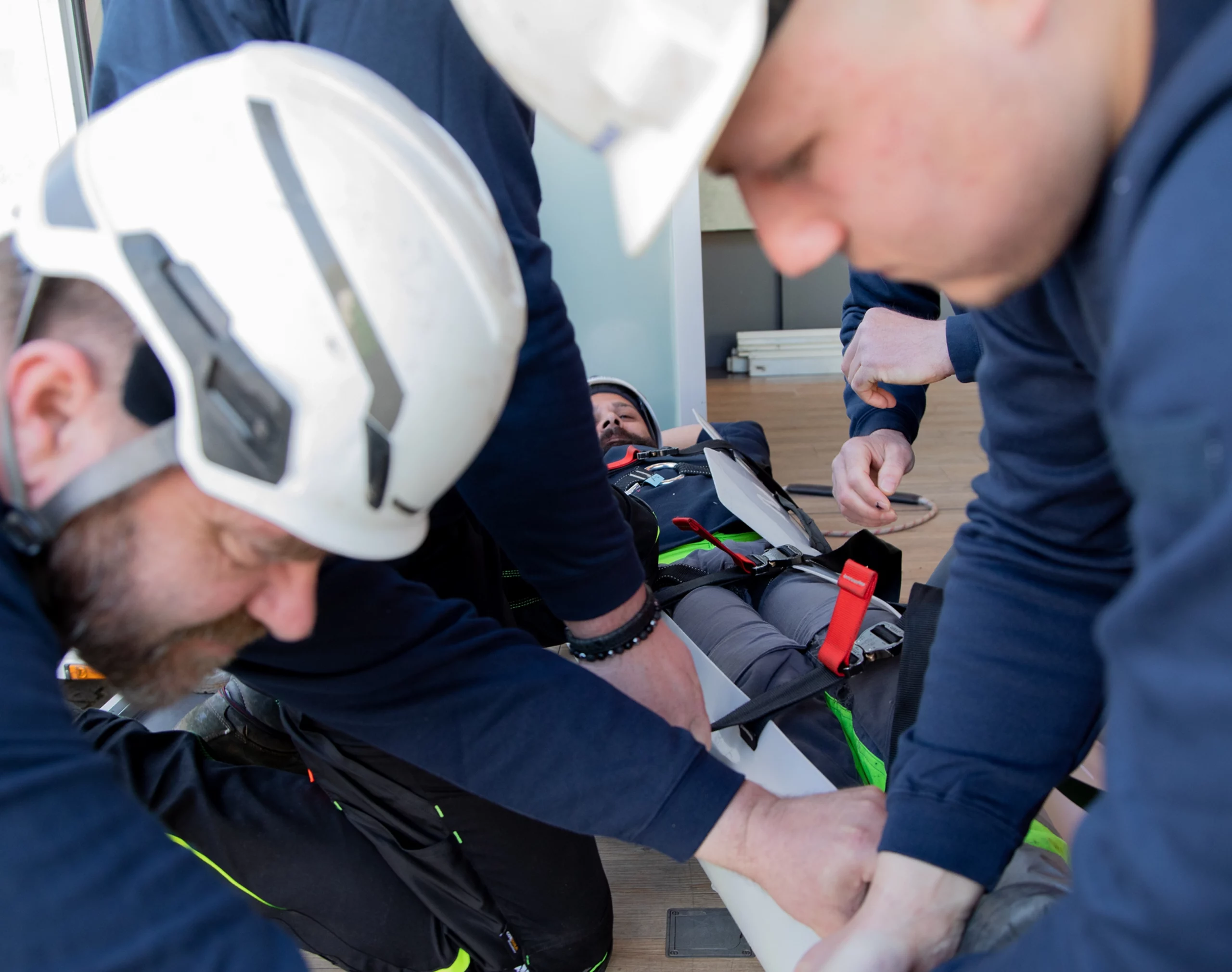 A FOCUS ON QUALITY
RESPONSIBLE ACTIONS